Joe Kunstler was the person I accused of sending me the Fake Projects Survey and several other flyers for fake projects in an envelope which bore a Danish stamp. When he returned from vacation recently, he angrily replied to my e-mail that he was innocent and that the evidence against him was part of a plan to frame him as the faker. Perhaps this is the case. Perhaps I am wrong about this, so in an effort to find out if it is indeed Joe, I now present the evidence which led to my conclusions and ask what you think.
Probably the main thing which make me suspect that it was Joe was the fact that every single copy of the "What Does Alice Look Like?" flyer came from him. One person who received it said it arrived in an anonymous envelope bearing a stamp and postmark from his home country, The Netherlands. Several people asked me if I thought Joe was the person who started the project because of the distinctive style of the flyer, similar to other flyers Joe has produced in the past. I did not feel that this was sufficient to prove him responsible for the project, but still I asked Joe if he knew where the fake project came from. He said he did not remember.
Then an envelope arrived, containing the Fake Projects Survey. It was meant to have appeared to have come from Denmark as it bore a Danish stamp, but inexplicably it had a postmark from Rotterdam, which is in Holland. Again, I did not consider this positive proof because Joe's mail doesn't usually have a Rotterdam postmark. But then I examined the handwriting and compared it to Joe's.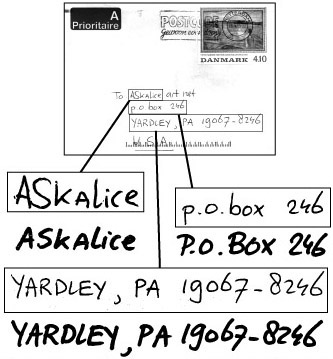 The above image shows the envelope which contained the fake projects. The samples in boxes are enlarged portions of this envelope, and the samples below the boxes are taken from several envelopes which Joe has sent me. There is no question in my mind that Joe addressed this envelope- look at the strange combination of letters in "ASKalice"- a lower case "k" followed by a small upper-case "A" followed by a large upper-case "L" is especially distinctive. The person who addressed the envelope has tried to disguise their handwriting by using lower case letters in "PO Box," but the numbers are the same. Lower case letters are abandoned on bottom line, which is virtually identical to Joe's handwriting, especially the numbers in the postal code. Please note that I have not altered these samples in any way.
Joe has asserted that someone has forged his handwriting on the envelope, but I maintain that there's no way someone could know how Joe writes my address without seeing the mail he sends me, and I keep all the envelopes I receive from him. In fact, someone has tried to make this envelope appear not to have come from Joe- it bears a Danish stamp, despite the fact that it was mailed in the Netherlands. Wouldn't someone use a Dutch stamp if they wished to frame Joe in this way? Wouldn't they make it more obvious it was from "Joe" whose mail has a quite distinctive style?
Joe also maintains that the postmark is from Rotterdam, which is 150 km away from where he lives, so this is one question I cannot answer, but I'm sure mail artists realize how easy it is to get a distant postmark on an envelope using a third party.
Now I ask you, the reader, to give me your input- have I wrongly accused Joe Kunstler? Please let me know what you think. I did not wish to publish this information, but Joe's insistence has forced me into a position where I must ask impartial people to consider this evidence and tell me if I'm wrong. I like Joe and it pains me to accuse him of this.
The Readers Respond...
"well, Im not at all surprised by your conclusion... put it this way I'd be surprised if it wasn't [Joe]. Just comparing the fake flyers to [Joe]'s you can see all the similarities."
"Joe appears to be guilty, however, have you established a motive . . . seems that would be one element missing from the evidence presented?"
I forgot to mention that K. Frank Jensen (who the "Danish" envelope was meant to appear to have come from) recently published an article which was critical of the mail art world, and especially critical of Joe Kunstler. -Ken
"Without having read that article, the handwriting is damning evidence."
Joe Kunstler Responds...
"Yes, the handwriting does look familiar to mine. Is that all the proof you have?"
What more proof is possible? Tell me, an anonymous envelope with only my address, a stamp and postmark are all I have to use. Just looking at the way "ASKalice" is written on that envelope is enough to convince me- you write it EXACTLY the same way, with the same combination of upper and lower case letters. How would someone know this to fake it? It is too similar to be a coincidence... I don't care about any of this any more. I don't care if you did make up fake projects or if you didn't, and I have told you this in the past. Please, let us put an end to this time-wasting discussion. It only serves to give me headaches. I already have too much to worry about with moving. I will not post any more information about fake projects again. Let us assume that there is a far more clever prankster than anyone can imagine who has created this envelope in an effort to make you, me and Frank angry. -Ken