home | articles | cult figures | mail art | reviews | recipes | contacts | feedback & faq
---
menu
| next gallery
My First Hair
Touch and Feel
by Violet Jones and Shelly 'Pea
---
I've said it before and I'll say it again... Violet Jones kicks ass.
In response to the Brett Mullet cult figure call and my article about Touch &
Feel Shapes, Violet sent me this... a hilarious homemade "touch and feel" book,
complete with cutout swatches of "hair textured" material! Amazing...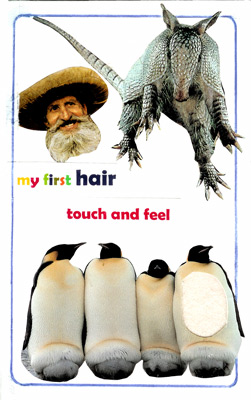 Contact Violet Jones at:
Box 55336, Hayward, CA 94545-0336, USA
---
menu | next gallery
---
home | articles | cult figures | mail art | reviews | recipes | contacts | feedback & faq