Photos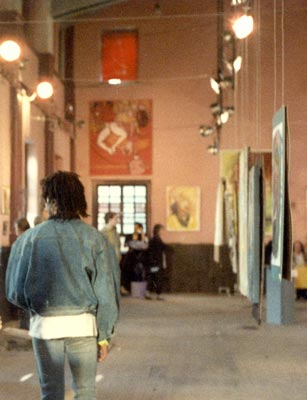 60 Portraits at the former synagogue on 6th Street, May, 1987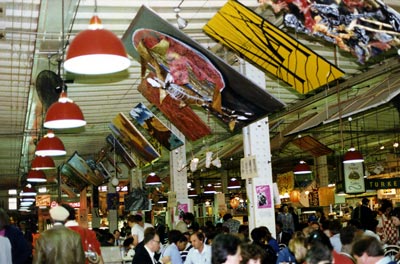 Terminal Art Market at Reading Terminal Market, April 1988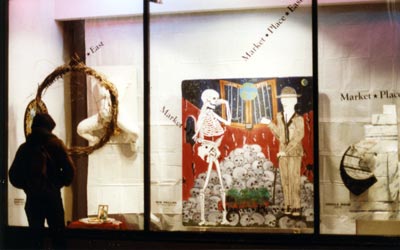 Bringing Water to the Horse: Art in the Windows, April, 1989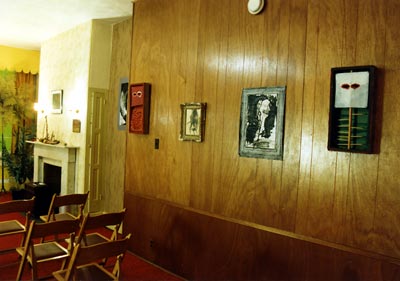 Dead On at Kash Lak Funeral Home, Nov. 1989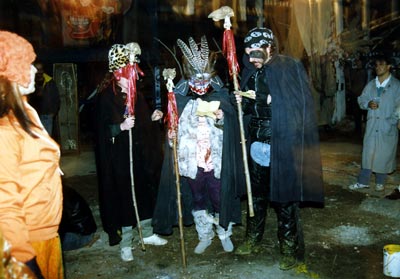 Dead On at The Lumberyard, Nov. 1989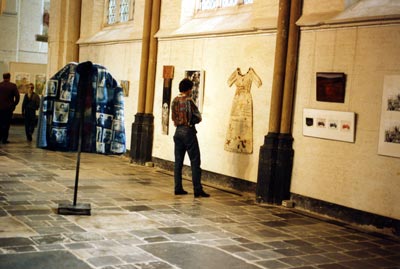 Exhibition in Bergkerk, Deventer, The Netherlands, July, 1990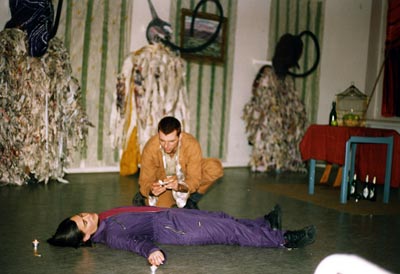 Global Motion, Installation & Performance in Dortmund, Germany, July, 1990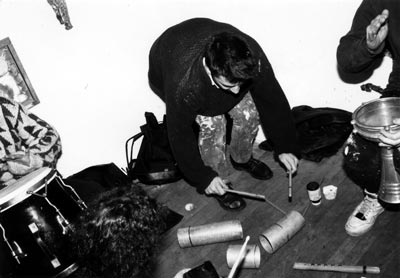 Animus, Animals, January, 1991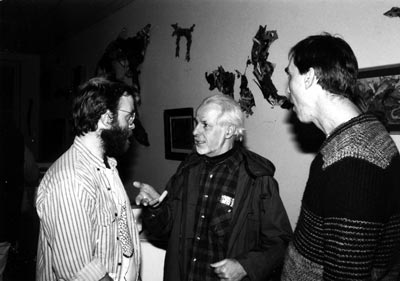 Jeff Waring, Joe Plageman, Peter Kinney- 1991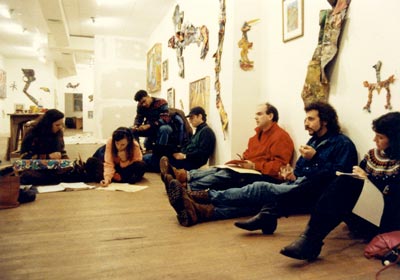 Group Meeting, January, 1991
Histories
History of Highwire Gallery
I remember the first meeting I went to. It was in a large loft in a warehouse at the corner of Cecil B. Moore Ave. and 5th St, a 4th floor walk up. Huge space. Little heat. At that time (early '80s) it was a wild and forbidden part of town for artists. Jesse Lyle, Nick Lyle, and Jeannie Whitcavage were the core group. They were adventurous artists looking for places to show their work.
We had a big show at a huge old synagogue building on 6th Street between South and Bainbridge. It was about 70 x 50 feet with a ceiling of about 30 feet. We strung wires from corner to corner, and all through the space to hang work. It was a great show, a lot of big work shown. A little later we showed there again, portraits that gallery members did of each other. The large space inspired large work. Working in this space suggested our name "Highwire."
In the early years we had shows all around town. We showed at Memorial Hall, the White Dog Café, Reading Terminal Market, 2nd St Lumberyard and Kash Lak Funeral Parlor at 2nd and Jefferson. We showed in spaces in Maniyunk, West Philly and Old City.
After a while we decided to opt for a permanent space, which became the 2nd floor of the Clay Studio/Nexus space. We had many interesting shows there: theme shows, groups and one person exhibits.
Highwire has openness for risk-taking, experimentation, and collaboration with other disciplines, without losing sight of quality and depth of vision. Even before our permanent space we were inviting poets, musicians and dancers to work with us. We believe that different artistic disciplines can enrich each other. Our members have collaborated with Group Motion Dance Company, Leah Stein, Roko Kwai and David Forlano, Toshi Makihara, Karen Abrahms, Elliott Levin, Ganni Gebbia, to name just a few.
---
Updated Highwire Gallery History
Highwire Gallery, located at 2040 Frankford Avenue in Philadelphia, is the home of Highwire Artists Inc., an artists' cooperative established in 1987. At Highwire the artists are fully responsible for the vision and operation of their organization. Curating, jurying, collaborating and exhibiting are all within the scope of every member artist. All members are expected to contribute to the community and serve the organization through a variety of means.
The co-op was initially organized in 1987 as the Philadelphia Artists Cooperative, or P.A.C.. Operating without a permanent gallery space, this transient cooperative sought new and unconventional spaces, intent on bringing art into the community and exploring context along with content and form. Exhibits were installed in a synagogue, at the Kash Lak Funeral Parlor, in an abandoned lumberyard in Kensington, at the Reading Terminal Market, in the street level windows of the Mellon Independence Center, on Petty's Island in the Delaware River, and in galleries, coffee shops, beauty parlors and bars.
It was at the 6th and Bainbridge Street synagogue, where art was hung throughout the building from crossed wires, that the group adopted Highwire as a name. In 1990 Highwire members initiated an exchange exhibit with another artists cooperative from Deventer, Holland. Members traveled to Holland and installed an exhibit within a fourteenth century church, and performed in Germany. The Dutch artists reciprocated with an exhibit in Philadelphia at the original Vox Populi gallery space on Fourth Street, below the Group Motion Dance Studio. In the same year the Highwire P.A.C incorporated and applied for non-profit status under the name Highwire Artists, Inc.. At this time Highwire was invited to join Clay Studio, the Nexus Foundation for Today's Art, and Zone One in the establishment of the Second Street Arts Building. Members accepted the invitation, expanding the program to allow individual artists the chance to exhibit a body of work, while still keeping alive a spirit of collaboration and experimentation.
Highwire stayed in Old City through 2004, and in 2005 members once again expanded their opportunities by moving into the Gilbert Building adjacent to Vox Populi, the Fabric Workshop Museum, and nearby to the Pennsylvania Academy of Fine Arts. The 3000 sq ft gallery provided members with ample space to present self-determined collections of art. Members participate in annual group shows and exhibit in a 2 or 3 person exhibit approximately every 16 -18 months. The gallery is also available for rent, providing other artists and organizations such as GALA (Gay and Lesbian Artists), the Womens Caucaus for the Arts, and MA (Mother Artists) exhibit opportunities.
At Highwire exhibits open on monthly First Fridays. Painting, sculpture, video and performance co-mingle and conspire. From its inception Highwire has maintained an interactive stance within Philadelphia, inviting collaboration and dialogue. Driven by its members, the co-op is always looking for dynamic partners and artists. Those interested in contributing to the community should visit the gallery and speak with a member in person, or visit the membership page of this website.
---
Website History
---